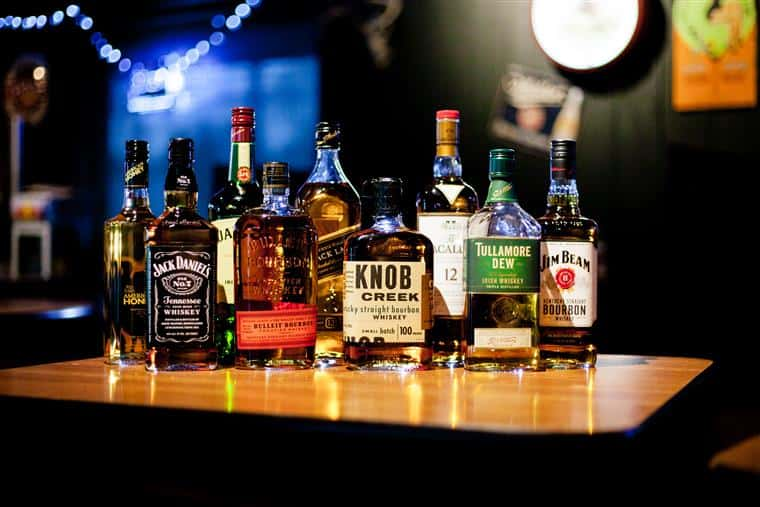 Whiskey & Bourbon
We didn't want to stop what we do at great BBQ so we've carried on that greatness to our Whiskey and Bourbon selections. Below are some of our house favorites but you'll have to stop in to see our rotating bottles!
Whiskey
Jameson Irish Whiskey - Jameson Original is a blend of pot still and fine grain whiskeys that is as versatile as it is smooth. Triple-distilled and aged for a minimum of 4 years, this is the timeless whiskey that turned our green bottle into an icon.
Tullamore Dew Irish Whiskey - Early fresh fruit leads to a definite light spike followed by some toasted wood which evolves into a delicious vanilla sweetness in this whiskey.
Johnnie Walker Black Label Blended Scotch Whiskey - Johnnie Walker Black Label is our Iconic Blend, recognized as the benchmark for all other deluxe blends. Created using only Scotch Whiskies aged for a minimum of 12 years from the four corners of Scotland, Johnnie Walker Black Label has an unmistakably smooth, deep, complex character. An impressive Blended Scotch Whisky to share on any occasion, whether you're entertaining at home with friends or on a memorable night out.
Jack Daniel's Tennessee Whiskey - Mellowed drop by drop through 10-feet of sugar maple charcoal, then matured in handcrafted barrels of our own making. And our Tennessee Whiskey doesn't follow a calendar. It's only ready when our tasters say it is. We judge it by the way it looks. By its aroma. And of course, by the way it tastes. It's how Jack Daniel himself did it over a century ago. And how we still do it today.
Macallan Single Malt Scotch Whiskey - The Macallan Double Cask 12 Years old is a 100% Sherry seasoned, and 100% natrual color, in keeping with The Macallan's tradition, but unique in the fact it is defined by the unmitakable prominence of the American oak style.
Crown Royal - (Deluxe) Crown Royal Deluxe is the standard of excellence for Canadian whisky. It is an extraordinary blend of 50 full-bodied Canadian whiskies, matured to perfection. (Vanilla) To create this extraordinary blend, Crown Royal whiskies are carefully selected by our master whisky blenders and infused with the rich flavor of Madagascar Bourbon Vanilla. The result is a uniquely sophisticated whisky, bursting with the bold flavor of vanilla and the distinctive smoothness of Crown Royal. (Apple) To create this extraordinary blend, Crown Royal whiskies are hand-selected by our master whisky blenders and infused with Regal Gala Apples and apple flavors. The result is a delicious Canadian whisky balanced with notes of crisp apple flavor.
Seagram's VO Canadian Whiskey - The revived version of the famous blend from the now-deceased Seagram's conglomerate. The 'VO' apparently stands for 'Very Own' as the blend was initially conceived for the private use of the Seagram family.
Seagram's 7 Crowns - A light and mild whiskey that is easy to mix, easy to serve and easy to call - especially the signature drink 7 & 7. A nose offering smokey, herbal and honey/maple elements; the Seagram's Seven Crown is a smooth bodied, apricot flavored, buttery delight.
Bourbon
Makers Mark Kentucky Straight Bourbon Whiskey - Maker's Mark is the result of Bill Samuels, Sr.'s quest to create a bourbon that he would actually enjoy drinking himself. With a recipe that replaces the standard rye with soft red winter wheat as the flavor grain, Maker's Mark is smooth and approachable with an easy finish – a true contrast to hot, harsh whiskies that "blow your ears off," and a downright revolutionary idea at the time. Maker's Mark® is made slowly in small batches, in our National Historic Landmark distillery in Loretto, Kentucky. While it makes any cocktail better, a lot of folks still prefer it on its own, or over ice with a splash of water.
Knob Creek Kentucky Straight Bourbon Whiskey - An undeniably big, full flavor that strikes your senses with a maple sugar aroma, distinctive sweetness and a rich, woody, caramel flavor with a long, smooth finish. Knob Creek is crafted in limited quantities, aged 9 years and placed in only the deepest charred American Oak barrels to fully draw out the natural sugars. Then we bottle it at an honest 100 proof to reflect the flavor, strength and patience that defined pre-prohibition whiskey.
Bulleit Bourbon -The subtlety and complexity of Bulleit Bourbon come from its unique blend of rye, corn, and barley malt, along with special strains of yeast and pure Kentucky limestone filtered water. Due to its especially high rye content, Bulleit Bourbon has a bold, spicy character with a finish that's distinctively clean and smooth. Medium amber in color, with gentle spiciness and sweet oak aromas. Mid-palate is smooth with tones of maple, oak, and nutmeg. Finish is long, dry, and satiny with a light toffee flavor.
Rebel Yell Kentucky Straight Bourbon - Honey and butter, followed by a hint of plum and raisins for a long, warm finish with an interesting touch of spiciness.
Wild Turkey Kentucky Straight Bourbon Whiskey - Originally crafted by Kentucky Bourbon Hall-of-Famer Eddie Russell as "Wild Turkey 81", Wild Turkey Bourbon is aged in American White Oak barrels with the deepest, No. 4 "alligator" char. With notes of sweet vanilla, pear, and hints of spice, this bourbon finishes with a flavor that is full and rich, whether enjoyed straight or with a mixer.
Wild Turkey American Honey - Wild Turkey American Honey is an exceptionally smooth 71 proof (35.5% alcohol) liqueur blended with pure honey and real Wild Turkey Bourbon Whiskey. It's perfect straight out of the bottle, chilled in the freezer, or on the rocks. It's the sweeter, smoother side of Wild Turkey, with notes of sweet honey, caramel, and orange.
Elijah Craig Small Batch Bourbon - Long before the term Small Batch even existed, our Master Distillers were hand-selecting just the right number of barrels to make Elijah Craig. This expertise and attention to detail give Elijah Craig Small Batch the right balance of rich flavor and full body for a warm spice and subtle smoke flavor.
Jim Beam Bourbon Whiskey - Jim Beam was founded in 1795 and has been operated by one family for seven generations. We've always created bourbon our way, aging it twice as long as the law requires. That's how we Make History every day.
Old Grand-Dad Boubon Whiskey - Old Grand-Dad was a real distiller named Basil Hayden who made his name by distilling a bourbon whiskey made with a higher percentage of rye. Basil Hayden passed along the art of distilling to his son Thyme (Just pulling your leg. We don't know his name) and then, in turn, to his grandson. It was the third generation distiller, Colonel R.B. Hayden, who honored his grandfather by naming his justly famed whiskey "Old Grand-Dad"